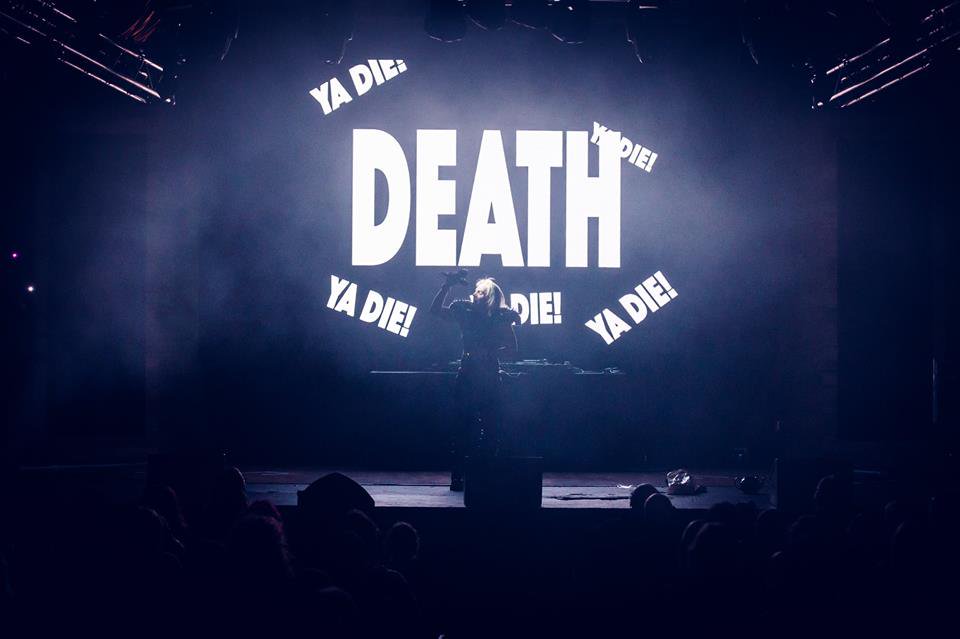 4,000,000 YouTube hits and counting… a spin-off videogame… 250,000 audience members streaming online via Twitch… 3,000 screaming people in one theatre… over 400 live performances around the world…
YOU AWAKE TO FIND YOURSELF IN…
THE DARK ROOM!
1. "The Dark Room" is the world's only live-action videogame. And definitely the only live-action videogame to become an actual videogame.
2. Interactive and insane, this is impro comedy + retro gaming
fused into a deranged rock n' roll game show.
3. Here's what John said in VICE Magazine and Starburst.
__________________________________________________________________________________________________
VIRAL SMASH
Originally an interactive YouTube series, The Dark Room went viral in 2012, with 4,000,000 hits. It appeared on NPR, in Variety magazine, the Washington Post, L'oiel du Links (Canal+) and was nominated
for Jayisgames.com's Best of Casual Games 2012.
"This is the future of gaming" – Ron Gilbert, creator of The Secret of Monkey Island.
"I just want to punch this guy in the face!" – unnamed US News Anchor.
__________________________________________________________________________________________________
THE LIVE SHOW
In August 2012, The Dark Room debuted at the Edinburgh Fringe, the world's largest arts festival.
Combining a screen, $5 of electronics, an innovative multimedia rig and John Robertson's manic flair for improvisation and abuse, it was THE cult hit of the Fringe, creating an exhilarating, incredible world of fun, fear, nostalgia and terrible prizes.
This is a live comedy the whole audience doesn't just watch… it plays!
Since 2012, the show has grown into a touring production that's been staged in basements, 3,000 seat theatres, corporate events, gaming and sci-fi expos, Fringe and Comedy festivals and toured the UK, Europe, Australia and South-East Asia.
In 2014, it was streamed on Twitch for a one-off special,
garnering 250,000 players over a four-hour marathon show.
The Dark Room has appeared in front of audiences ranging from high hundreds to acceptable thousands at Insomnia Gaming Festival, Runefest, UK Games Expo, Sci-Fi Weekender, EB Games Expo Australia, Wai-Con, MCM Comic-Con, Play Expo Manchester, Birmingham Mac, Bristol's Colston Hall, Underbelly Festival London, Magners International Comedy Festival,
and since 2010, has had eight consecutive runs at the Edinburgh Fringe.
There's also a child-friendly(ish) version, which took home Best Kid's Show at Leicester Comedy Festival 2018!
Supporters of The Dark Room include Perrier-winning comedian Brendon Burns, games industry legend
Ian Livingstone, Mark Watson & creator of Invader Zim, Jhonen Vasquez.
No two shows are the same. No other show is the same. This is THE DARK ROOM!
__________________________________________________________________________________________________
THE VIDEOGAME
On September 20th, 2018 – The Dark Room finally became an actual videogame, with level one launching on Steam Early Access for PC and Mac.
Pick yourself up a copy, the money goes into making the game as large, strange and dangerous as possible.
BUY "THE DARK ROOM" ON STEAM HERE
WHAT THE CRITICS SAID
WINNER
Best Kid's Show, Leicester Comedy Festival 2018 (for The Dark Room For Kids)
ThreeWeek's Editor's Choice, EdFringe 2016
Argus Angel, Brighton Fringe 2014
Director's Choice, Bedford Fringe 2014
Best of the Fest, Wild West Comedy Festival 2011
NOMINEE
Best Comedy, Fringeworld 2018
Best Local Comedy, Fringeworld 2017
☆☆☆☆☆ Fringe Review ☆☆☆☆☆ ThreeWeeks ☆☆☆☆☆ The Skinny ☆☆☆☆☆ One4Review ☆☆☆☆☆ Broadway Baby ☆☆☆☆☆ FringeGuru ☆☆☆☆1/2 Jayisgames.com ☆☆☆☆ The Stage ☆☆☆☆ Den of Geek
☆☆☆☆ The Age ☆☆☆☆ Herald Sun ☆☆☆☆ The List
☆☆☆☆ Edinburgh Spotlight ☆☆☆☆ Edinburgh Review ☆☆☆☆ Chortle
"A real blast from the past with one crooked eye on the future, this is a truly unique show you'll be gutted to miss out on." (Manchester Wire)
"a hilarious YouTube skit made flesh… that he's a skilled stand-up performer is plain to see; he just happens to have lucked out channeling a subject he obviously loves into the live arena" (The List)
"What a marvelous, maddening concept this is from the twisted mind of John Robertson… if Kafka were to write a comedy show, this would be it." (Chortle)
"Watching audience members tackle the challenge and fail is one of the funniest sights around, don't miss it." (Daily Telegraph, Sydney)
"24 hours ago I'd never heard of John Robertson, now I can't get his voice out of my head." (Cerebralpop.com)
"The Cloak Room at Melbourne Town Hall was packed, which means the crowd had either seen it before or heard how good it was. It's terrific: inspired, wacky and Robertson, on occasions, sounds just a little sinister. And then the lights go up and he's outside, shaking hands, thanking each of us for coming. What a gentleman! Who'd have thought such a dark, twisted mind lurked beneath this mild-mannered exterior…" (Herald Sun)
"Say goodbye to this morning's work plans" (Eurogamer)
Time Out Top 100 Edinburgh Fringe Shows 2014,
The List's Top 5 Scary Shows Edinburgh Fringe 2013
__________________________________________________________________________________________________
Want a show where John will customise the content for your event?
The Dark Room's map can be altered to include levels based on your co-workers, friends, enemies – anything you want!
Click the button and talk to the man himself!
Book A Bespoke Show!