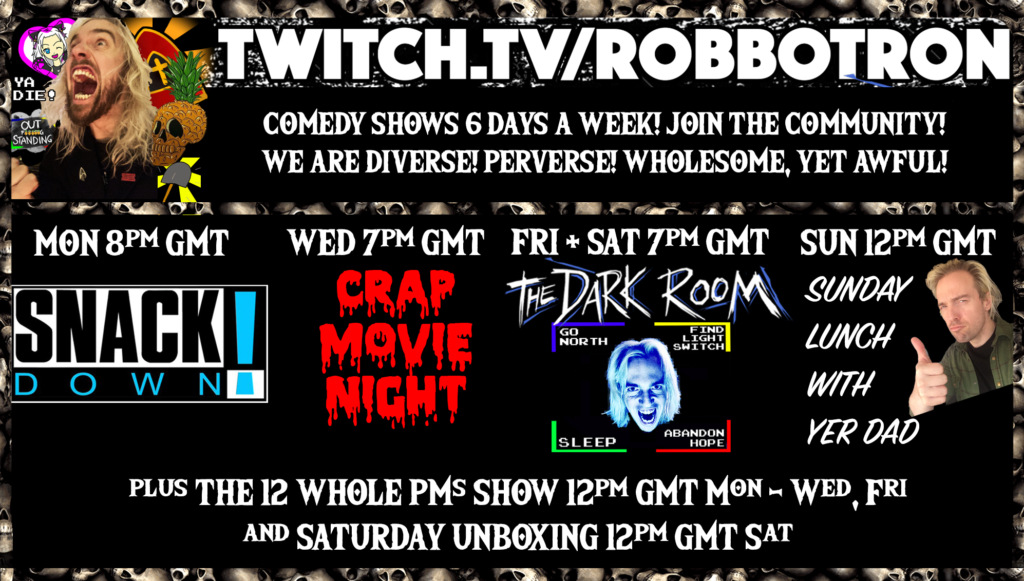 Live Shows:

17/09/2022: MARROWVILLE SIGNING – 1:30pm @ Stefen's Books, Perth

22/09/2022: THE DARK ROOM – 6pm SESSION @ EGX, London
24/09/2022: THE DARK ROOM – 2:30pm SESSION @ EGX, London
29/09/2022: THE DARK ROOM @ EDGE HILL UNIVERSITY
02/10/2022: STAND-UP @ Shakespeares' Sheffield 
SOMEWHERE BETWEEN 7th – 9TH OCTOBER – THE DARK ROOM @ PAX AUSTRALIA
15/10/2022: THE DARK ROOM @ Unicorn Theatre, Abingdon
16/10/2022: THE DARK ROOM @ The Frog & Bucket, Manchester
21/10/2022: STAND-UP: KOMEDIA BRIGHTON (MC)
22/10/2022: STAND-UP: KOMEDIA BRIGHTON (MC)28/10/2022: STAND-UP: BACKYARD COMEDY CLUB (OPENING)
29/10/2022: THE DARK ROOM FOR KIDS @ The Sandpit Theatre, St Albans
29/10/2022: THE DARK ROOM @ The Sandpit Theatre, St Albans
05/11/2022: STAND-UP: HEREFORD CITY CENTRE (Hehehehe, I don't know the venue's name!)
10 – 13/11/2022: THE DARK ROOM @ SFW, Great Yarmouth 
02 + 03/12/2022: STAND-UP: COMEDY LOUNGE, HULL (CLOSING SET)
10/12/2022: STAND-UP: CAMDEN COMEDY CLUB, CAMDEN (CLOSING SET)
---
Streaming: (5th – 20th September 2022 – sporadic until I return to UK)
You can find me live on the Chortle Award-winning (ooooh) http://twitch.tv/robbotron 10 times a week!
Most shows are 2-3 hours long, starting 7pm GMT / 2pm ET / 11am PT
Mon – Wed, Fri – 12pm UK time – THE 12 WHOLE PMs Show!
Your daily dose of high-energy comedy, chat, ukulele, improv and internet adventures!
Mondays – 8pm UK Time – MONDAY NIGHT SNACKDOWN
People send me snacks from all over the world. I eat them. Results are mixed.
Wednesdays – 7pm UK Time – CRAP VIDEOGAMES NIGHT
I play appalling videogames, some suggested by Robbotron community members in our Discord. Come join!
Friday + Saturday – 7pm UK Time – THE DARK ROOM
The world's only live-action text adventure THE DARK ROOM hits Twitch for two nights of interactive mayhem.
Saturday – 12pm – SATURDAY UNBOXING
People from around the world send me mail! I open it! Results are joyfully strange. The Mailbox Of Wonders is here: PO Box 76870, London, N1P 3JX
Sundays – 12pm UK TIME – Sunday Lunch With Yer Dad
I'm your Divorced Aussie Dad (D.A.D) and you're my kids! Long-running interactive, improvised comedy drama about a man who only gets his children once a week, just wants his wife back, and is doing what we can. 
——————–