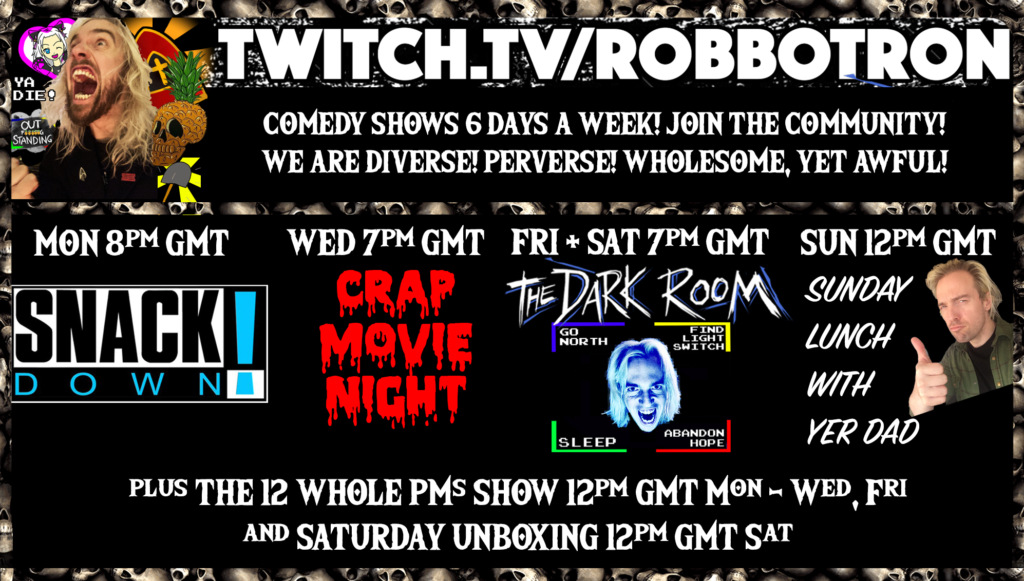 Live Shows (day/month/year)

09/09/2023: THE DARK ROOM: FINAL FINAL FINAL FINAL FINAL FINAL FINAL FANTASY XXXVIIII_v3_draft_final.mp4 @ INSOMNIA GAMING FESTIVAL, BIRMINGHAM – complete map rebuild, bonus features + madness!

23/09/2023: STAND-UP @ JUST THE TONIC, READING

29/09/2023: The Dark Room @ Soho Theatre – The Dark Room returns to its inner-city London home!

07/10/2023: The Dark Room @ PAX AUSTRALIA, MELBOURNE – The Dark Room returns to Melbourne for exactly one night before I fly back for…
13/10/2023: The Dark Room @ I SIGNED AN NDA, LONDON – The Dark Room, in London, at some large event which I'm sure I can promote soon

20/10/2023: The Dark Room @ Staggeringly Good Brewery, Portsmouth – a rare coastal sighting!

28/10/2023: The Dark Room @ Dungeons & Flagons, Manchester – roll for good vibes!

03/11/2023: STAND-UP @ Laugh Out Proud, Didcot

05/11/2023: The Dark Room @ The Stand, Edinburgh – back after the Fringe!

17/11/2023: The Dark Room @ Soho Theatre, London

25/11/2023: The Dark Room @ Rosehill Theatre, Whitehaven – tickets TBA

26/11/2023: The Dark Room @ The Stand, Glasgow

30/11/2023: STAND-UP @ Chuckles Comedy, Swindon

02/12/2023 STAND-UP @ Knebworth Village Hall – tickets TBA

03/12/2023: The Dark Room @ The Stand, Newcastle

15/12/2023: STAND-UP @ The Courtyard, Hereford

---
Streaming:
You can find me live on the Chortle Award-winning (ooooh) http://twitch.tv/robbotron
Most shows are 2-3 hours long, starting 7pm UK time / 2pm ET / 11am PT / 3am AWST / 6am AEST
Except Saturday + Sunday – starting 12pm UK time / 8pm AWST / 11pm AEST
And special events, of which there are plenty – including live The Dark Room shows from theatres, interactive The Dark Room sessions at times that suit Australian viewers, and the occasional IRL stream that's mostly just me confused about where I am
Mondays – 8pm UK Time – MONDAY NIGHT SNACKDOWN
People send me snacks from all over the world. I eat them. We rate them. A bag is provided for throwing up.
Tuesdays – 7pm UK Time – ROBBOTRON
It could be anything! High-octane improv, we go wherever we all feel like.
Wednesdays – 7pm UK Time – CRAP VIDEOGAMES NIGHT
I play appalling videogames, some suggested by Robbotron community members in our Discord. Come join!
Thursdays – 7pm UK Time – THE DARK ROOM
YOU AWAKE TO FIND YOURSELF IN A DARK ROOM! Come play the world's only live-action text adventure! Get in the chat and try to escape the surreal, brutal comedy game show!
Saturdays – 12pm – SATURDAY UNBOXING
People from around the world send me mail! I open it! Results are joyfully strange. The Mailbox Of Wonders is here: PO Box 76870, London, N1P 3JX
Sundays – 12pm UK TIME – Sunday Lunch With Yer Dad
I'm your Divorced Aussie Dad (D.A.D) and you're my kids! Long-running interactive, improvised comedy drama about a man who only gets his children once a week, just wants his wife back, and is doing what we can.
——————–